Laetitia Puyfaucher named "Femme en Or" 2013!
•
The 21st annual "Femmes en Or" (Outstanding Women) Awards ceremony was held on December 14th in Avoriaz. These awards recognize women whose achievements over the past year in their respective fields represents a source of inspiration.
Orange France, an official partner of the ceremony, presented Laetitia Puyfaucher, president of Pelham Media Ltd., with the award for "Outstanding Businesswoman."
Director of the famous Parisian theater house Comédie Française Muriel Mayette-Holtz, Wimbledon tennis champion Marion Bartoli, actress Catherine Frot, and journalist Wendy Bouchard were also among the honorees this year.
This year, the jury chose to honor Laetitia's numerous accomplishments, including her impressive academic career, her determination to constantly innovate and stand out in a highly competitive sector, and her rise to the top, becoming the leader of the premium brand content niche with her communications agencies WordAppeal and Pelham Media.
Laetitia was honored to accept the award on behalf of her teams and her industry: "I would like to dedicate this award to my teams (past and present) who, I think, know how much it belongs to them as well. I would also like to take a moment to thank our clients, most of whom have been with us from the beginning of this adventure. I am also happy that this award recognizes the communications industry, a sector marked by a profound need for constant innovation, creativity, and temerity."
She is also the winner of the HEC women's business award in 2011.
To find out more about the "Femmes en Or" Awards, check out the official Facebook page.
Check out our Storify feature and relive the weekend-long event!
Be sure to watch Laetitia Puyfaucher's appearance on BFM TV and read her interview in Madame Figaro's business section.
•
•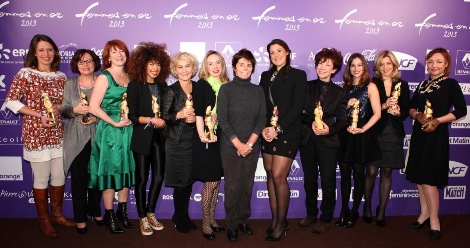 •