•
The equine sector is ill at ease. Breach of trust proceedings are currently being heard by the European Union Court of Justice concerning the application of a reduced VAT tax rate on equestrian activities in France. Austria, Germany and the Netherlands have already faced disciplinary measures for the same charge.
WordAppeal is lending communications support to the group l'équitation en peril (equestrianism in danger), which gathers all the major representatives of the equestrian sector in France: the Fédération française d'équitation (FFE), Groupement hippique national (GHN), Fédération nationale du cheval (FNC), and the Chambre syndicale du commerce des chevaux de France (CSCCF).
According to the group, increasing VAT tax to 19.6% would have disastrous effects on employment (mostly rural and feminine), the purchasing power of riders (who are mainly middle class, as equestrianism has become the 3rd largest sport in France) and the overall health of the sector (top employer in the field of private sports, only popular sport to receive no subsidies and generate tax revenue).
The goal of the communications campaign is to raise awareness and support among elected officials, equestrian centres and riders so that a solution can be reached in the immediate future.
•
•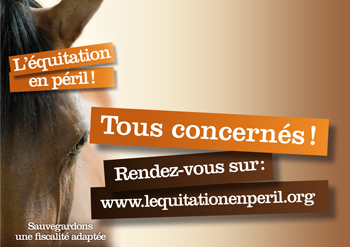 •
•
The agency will handle:
Editorial strategy: writing the position paper;
Creating communications tools: • editorial assistance for generating support by writing letters to elected officials and equestrian centres; • designing flyers and signs; • developing a support website: www.lequitationenperil.org; • creating a Facebook page: www.facebook.com/lequitationenperil;
Press and e-influence: • organising a press conference at the FNSEA head office on October 5: invitation, press report and releases; • press relations in connection with the event; • writing and publishing articles in the media.
The campaign has already led to the Assemblée Nationale's adoption of an amendment to the 2012 finance law, an initiative suggested by the group. An initial victory for equestrianism!
More information: http://www.lequitationenperil.org
•